Click On The Amazon Banner Below Before You Order Anything From Amazon.
Doing this helps to cover our forum server expenses. This does not effect what you order from Amazon at all. To sum things up, Amazon gives us up to 6% in commission. If you have and ad blocker, click this message to be linked to Amazon. It works the same way. ~Thank you for your support of Upstate4x4.com

06-09-2014, 10:39 PM
Nysm1
Junior Member



Posts: 25
Joined: Aug 2013
Reputation: 0
95 XJ build...
Ok so her we go again. This is going to take awhile to get through all the pictures and the information that I have done since I bought this hunk of junk!
Ok so i bought this thing from my Stepfather for $800 on October 22, 2012. This thing was in rough shape. Ran like shit, started like shit, balded tires, broken shock mount, bad 8.25" seals, and much more. It was a beater and I loved it!
Well first thing I did was picked up everything for an ESSENTIAL tuneup including a new distributor! (no pictures from this session)
I soon started to replace all the sensors to just get it over and eliminate any chance of having something go bad on me soon! That didn't work to well though. On my way to work one COLD night my heater stopped working. GAWD perfect timing right? Well I braved through the winter without having my heater. Worst decision I made to that point lol!
Once fall came around that's when I got into the swing of fixing all the much needed to areas. First thing was to find out what was going on with my heater. That was simple once I had the dash apart.
Well I got my hands on some well worn 32x11.5r15 Mickey Thompson for $200. They were still better than my balding 30x9.5r15.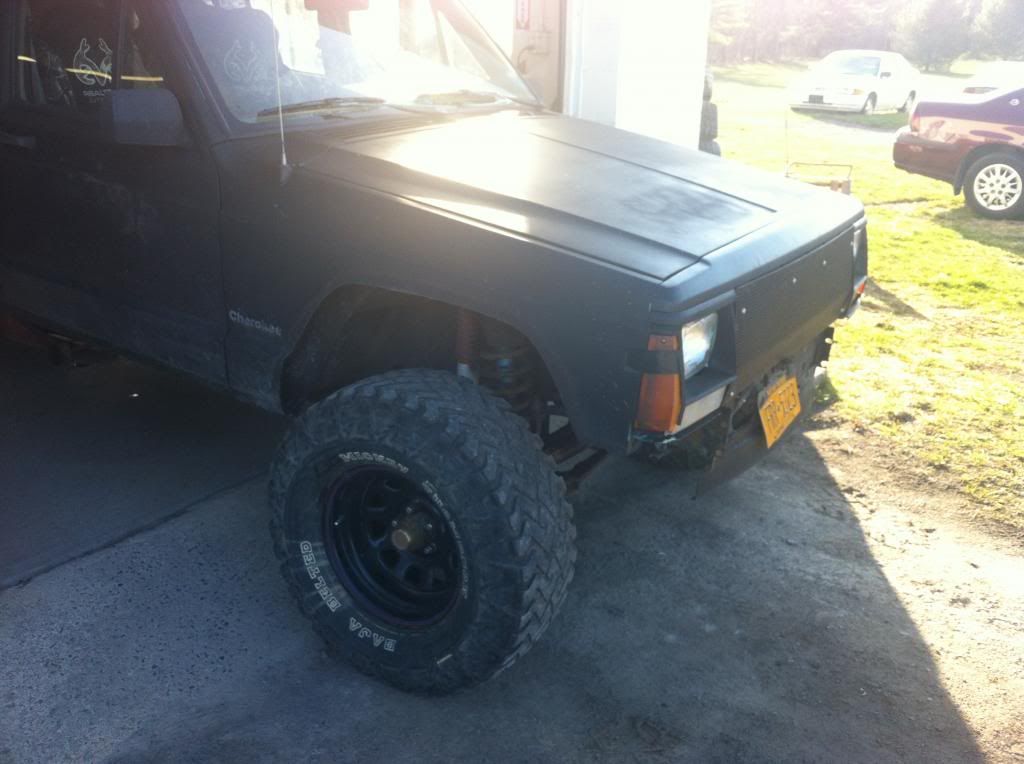 Looks like they shorted out which blows. I hate electronics! Well I was off to the Junkyard in search of the needed parts to fix it. That didn't end as expected either. While I was about to leave the junkyard i saw a large amount of liquid coming from the back of the vehicle. Yep you guessed it, the gas tank finally rotted out! Great time right, but wait theirs more! Once home safely and losing more than a half tank of fuel, I noticed another leak from the from of the vehicle. Once again Murphy's Law was in full swing. The radiator blew and had a nice gaping hole in the side. So it was off to Advanced for some much needed parts.
First came the new fuel tank, I took extra steps to make sure this one wouldn't rot out as quick!
Next came the new "to me" radiator.
Things seemed to get better for a little while. Until the drivers side balljoint decided to fall asleep.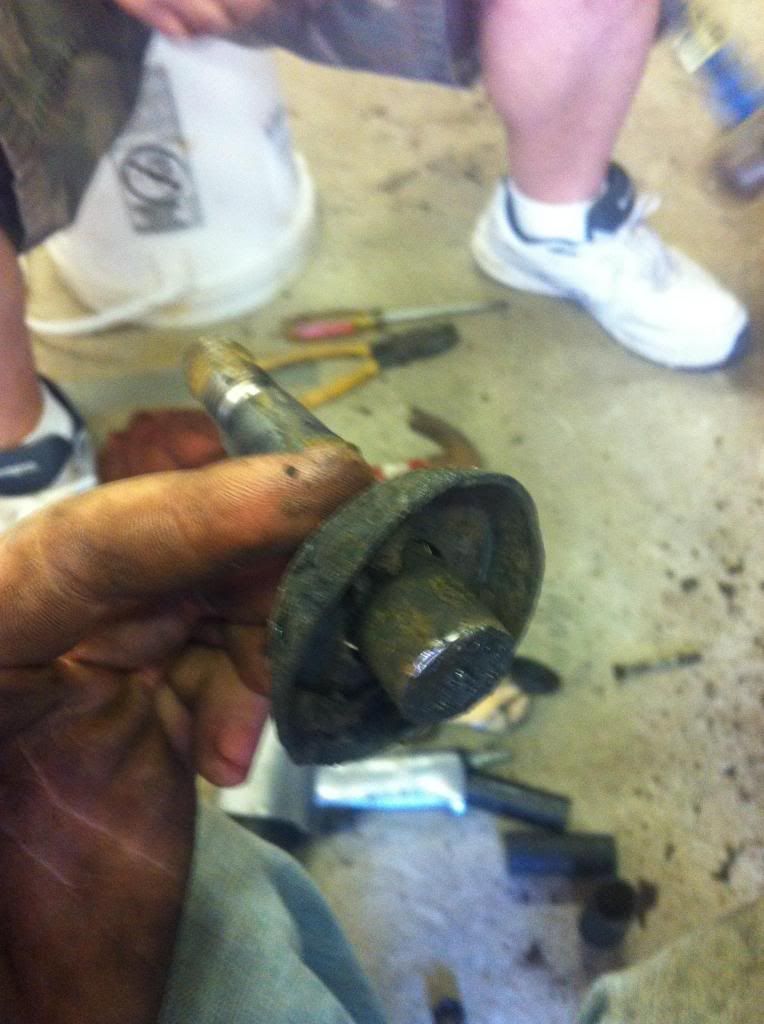 Didn't have a balljoint press so we made our very own!
---
Well nothing seemed to want to break for a couple weeks so i decided to start fixing things before they broke! First was to upgrade my tie rod to a V8 ZJ one. A lot stronger and simple bolt up.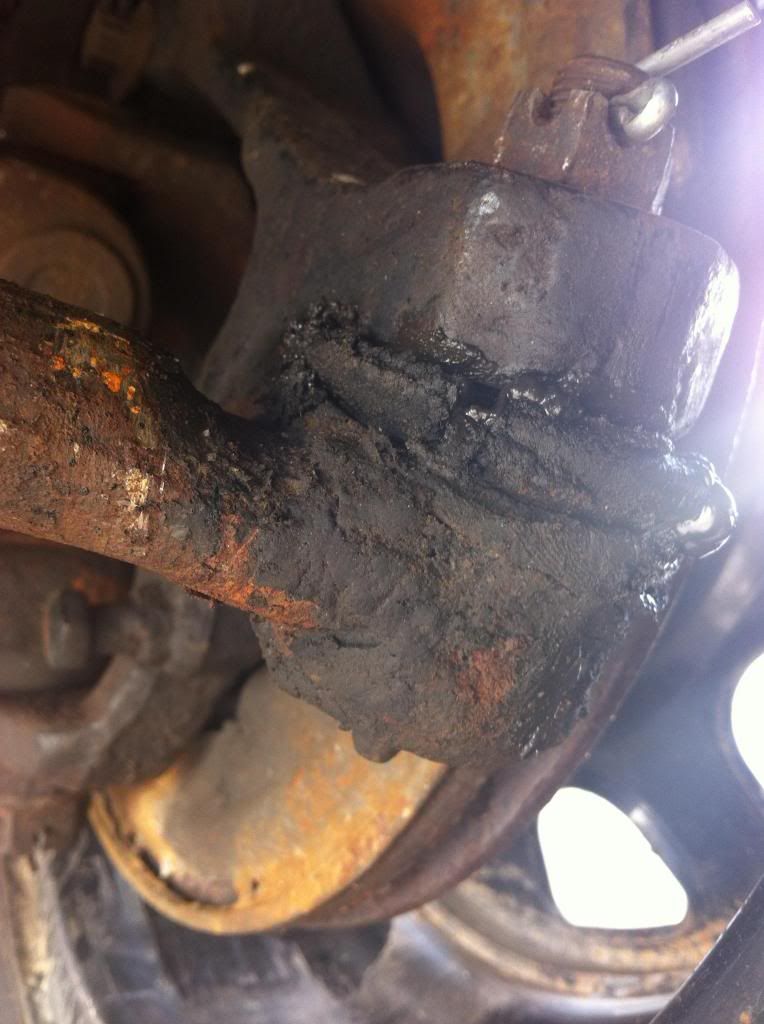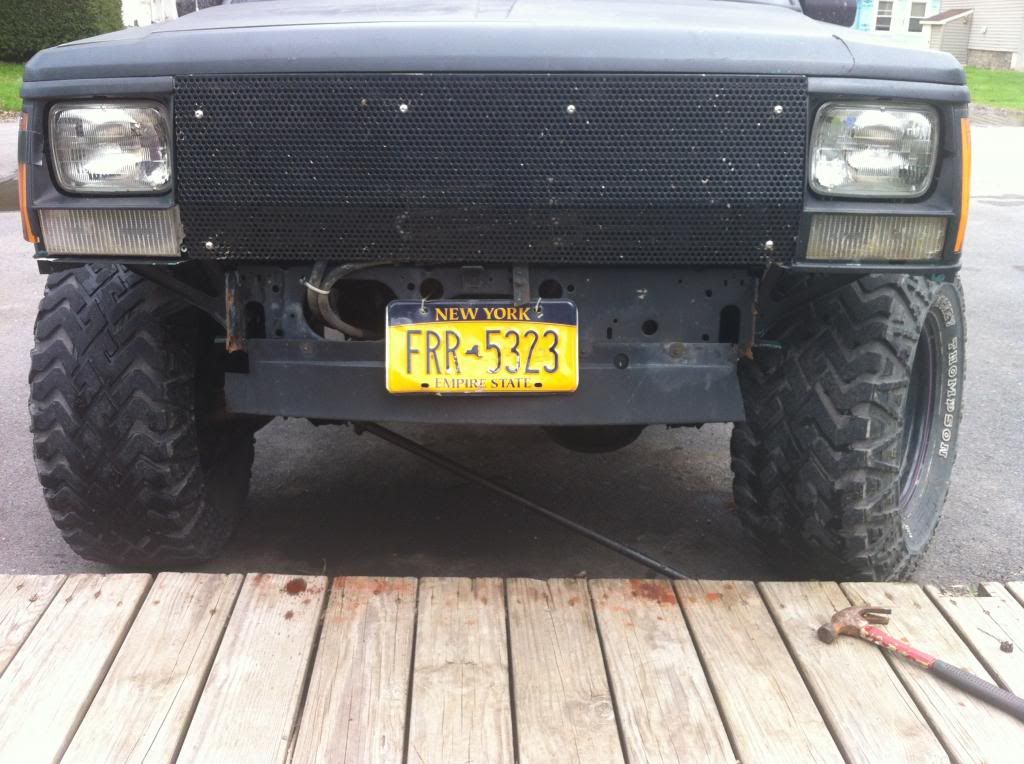 Next was to clean up some minor rust spots. Didn't want them to spread or anything!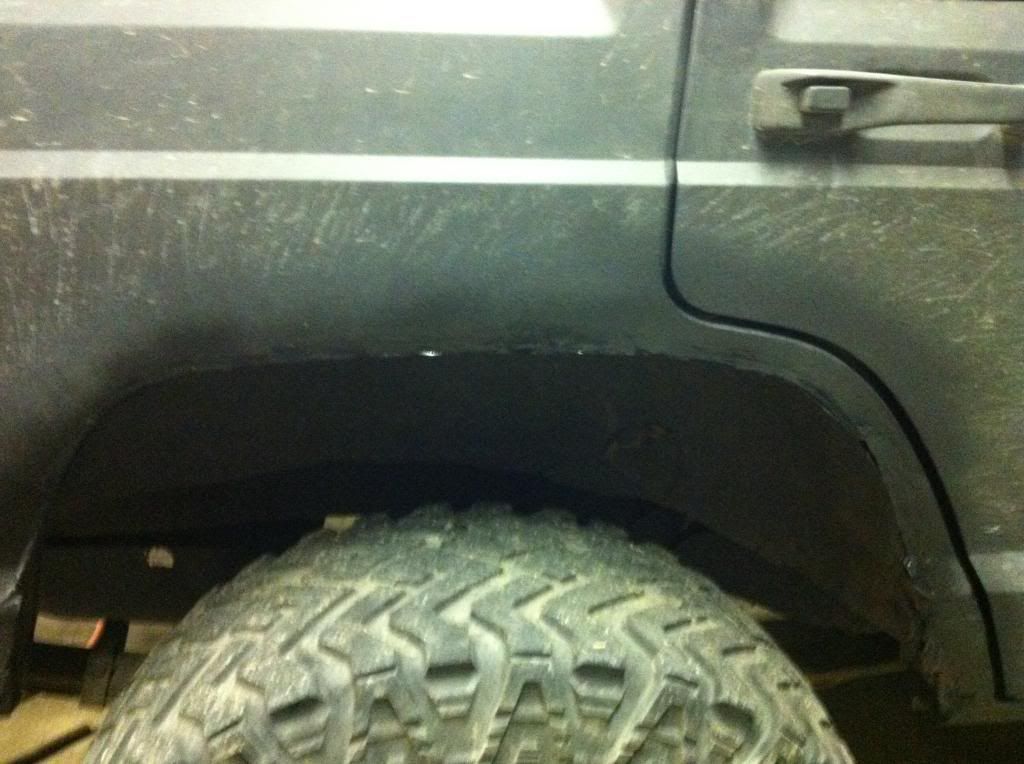 Next I wanted to get the real 8.25" seals fixed. First I should have known it was a 8.25" and not the D35. Big difference in size!
Next was a new Steering Box spacer. Got this puppy off of Ironrock and I'm certain it'll last longer than the vehicle it's self lol.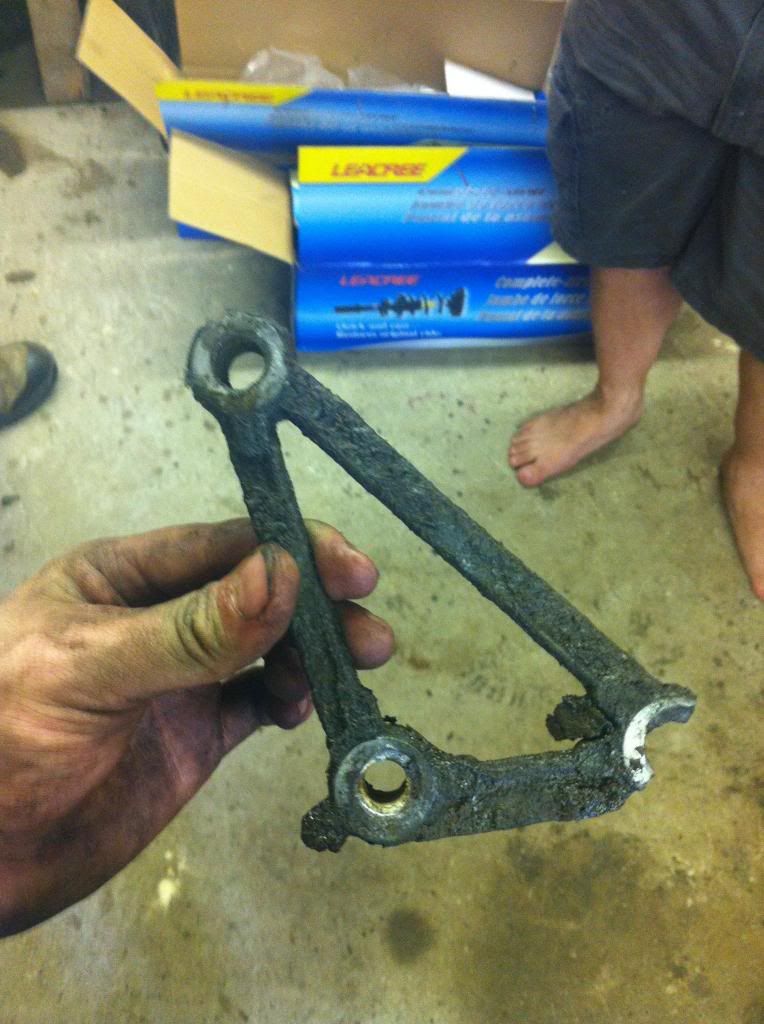 ---
So after getting sick of this "unique" front grille setup, I asked around and picked up a new to me front end from Pat for $40. Couldn't have been any happier!
Before:
[/size]Painting:

[size=x-large]Finished: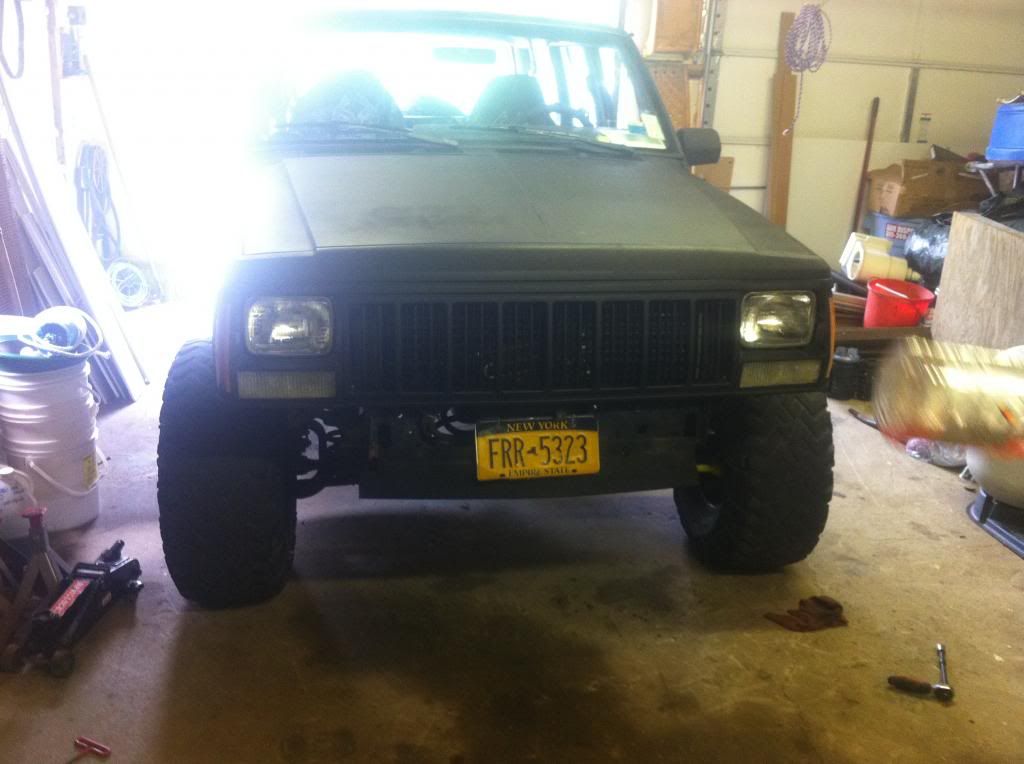 Now it's looking like a Jeep again!
Next was to fix that minor shock issue I stated earlier.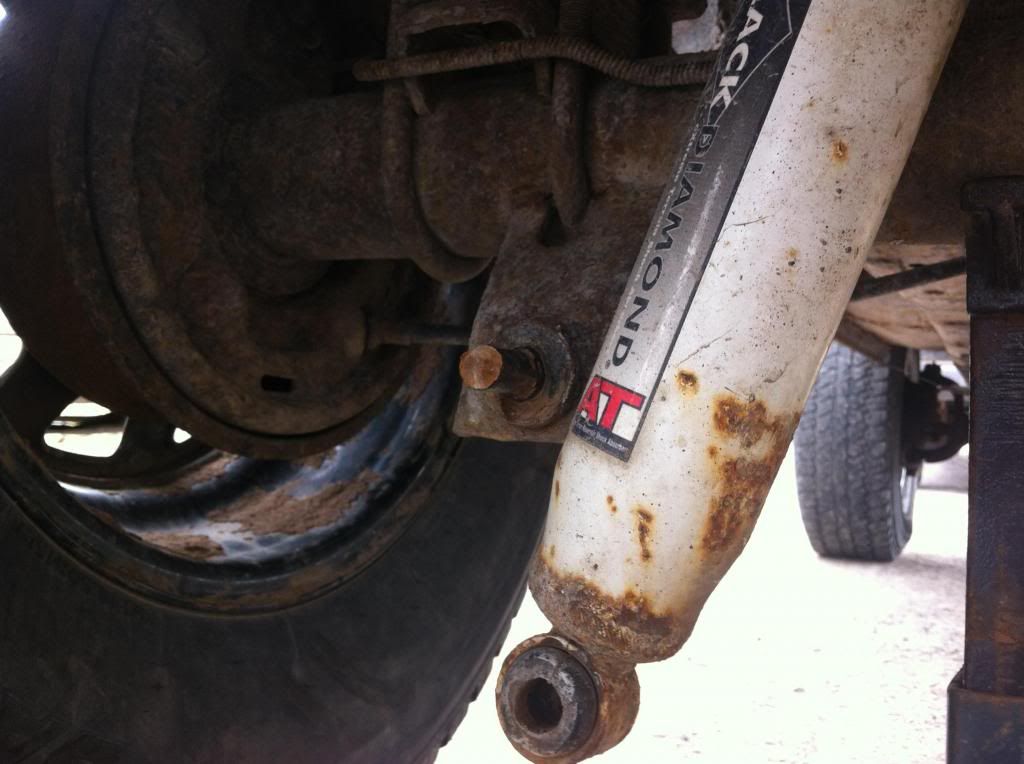 Simply used a cutting wheel, cut off the old mount and drilled a hole for a bolt instead!
She's looking sexy!
---
Much more to come... I'll finish up everything tomorrow morning... Goodnight everyone!
06-10-2014, 07:05 AM
Smithy
Upstate4x4 Admin



Posts: 1,184
Joined: Sep 2013
Reputation: 12
RE: 95 XJ build...
Nice! Lovin that ball joint press, lol.
---
06-10-2014, 07:57 AM
yellowx16
Upstate4x4 Admin



Posts: 737
Joined: May 2013
Reputation: 3
RE: 95 XJ build...
nice xj! excited to check it out this weekend
06-10-2014, 10:30 AM
Nysm1
Junior Member



Posts: 25
Joined: Aug 2013
Reputation: 0
RE: 95 XJ build...
Thanks guys, there is much more that has been done. These Pictures are old as fuck lol
06-10-2014, 10:57 AM
Smithy
Upstate4x4 Admin



Posts: 1,184
Joined: Sep 2013
Reputation: 12
RE: 95 XJ build...
Keep 'em coming

---
06-10-2014, 10:58 AM
Nysm1
Junior Member



Posts: 25
Joined: Aug 2013
Reputation: 0
RE: 95 XJ build...
At this moment i'm uploading all the pictures to photo bucket now lol
---
Ok so back to it lol... Well here came the winter and Santa decided to drop a little gift off at my house! That jolly old man sure knows how to make a young man feel like a little kid again! 33x12.5R15 Mickey Thompson MTZ! They are excellent on the road and very good in the mud. I can't complain about the purchase. It was well worth the money and next set will be the Baja Claws.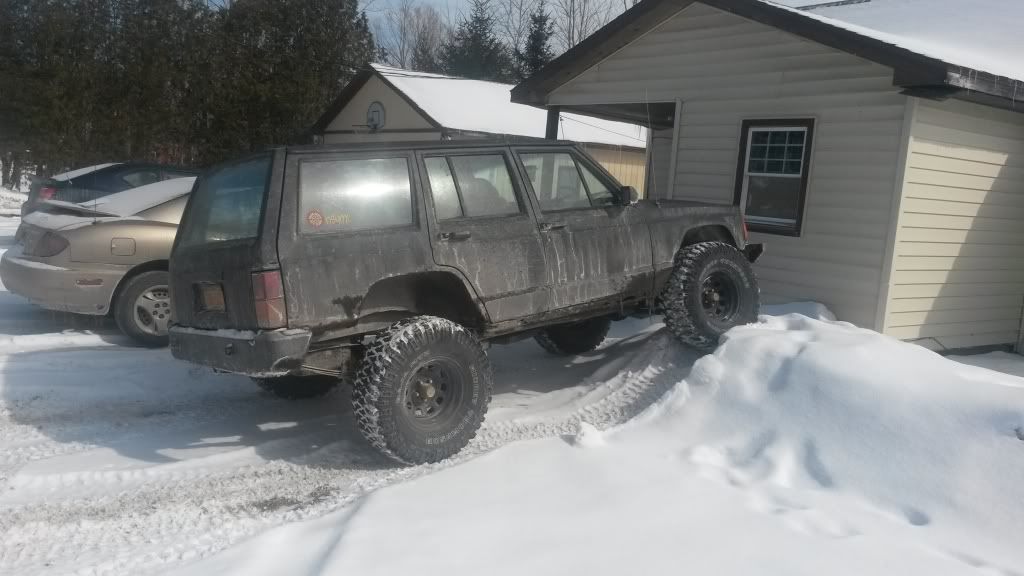 This winter I really didn't do much of anything when it came to working on the Hunk. I did have my lower radiator hose blow about 3 miles from my house. So i made the thing make it home without the hose and my hood up. Lets just say that wasn't a smart decision because I broke more from that then I should have.
Well once this spring hit I knew what needed to be fixed and so i went HAM on them. Here come the pictures!
First thing first, I ran this thing with a blow headgasket for about 3-4 months. The thing definitely needed some lovings. So i spent a couple hours out ripping into the thing. Quite simple honestly. Would say it's on of the easiest things I've had to do on this thing.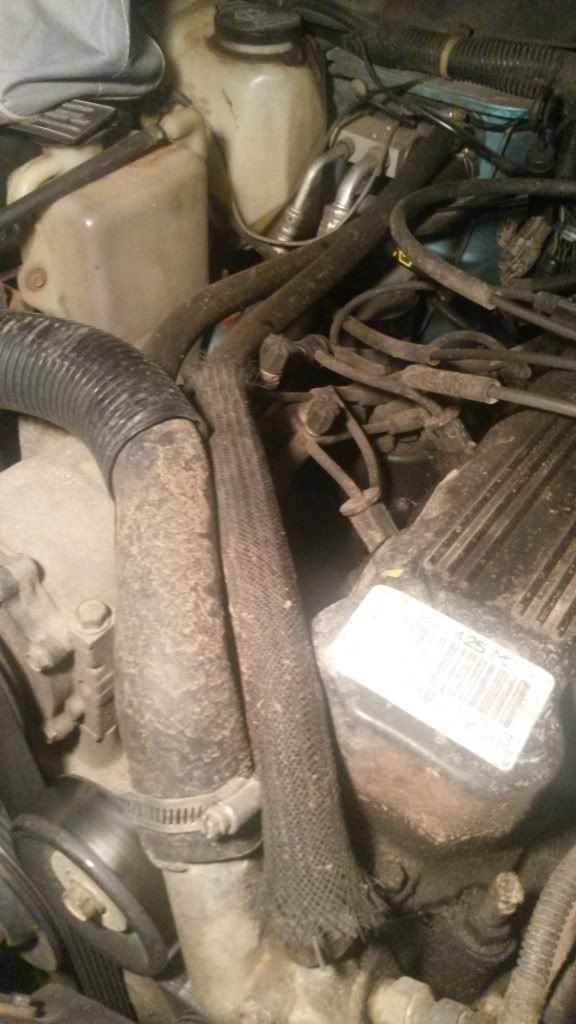 While i had everything torn apart I said, why not install a new exhaust manifold and WHY not heat wrap it.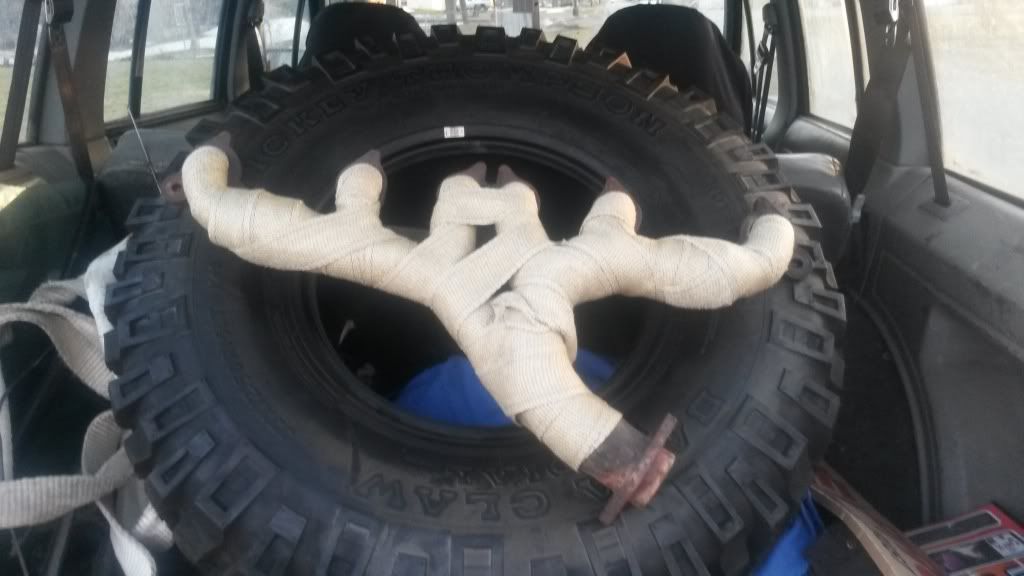 ---
---
Well before I even started it up for the first time, I wanted to install the new Injectors i picked up also. $100 for all 6 and they have the 4 pintle holes. Seemed like a good upgrade since the old injectors had over 200k on them. What a difference they made also.
New:
Old:
---
Here's the first initial startup after the head gasket, injectors, and exhaust manifold were all changed.
=135474239&filters[recent]=1&sort=1&o=0]First Startup
---
More to come, but I'm off for a little bit. I got somethings to do!

User(s) browsing this thread: 1 Guest(s)