Click On The Amazon Banner Below Before You Order Anything From Amazon.
Doing this helps to cover our forum server expenses. This does not effect what you order from Amazon at all. To sum things up, Amazon gives us up to 6% in commission. If you have and ad blocker, click this message to be linked to Amazon. It works the same way. ~Thank you for your support of Upstate4x4.com

Botto's Expedition Trailer & Roadtrip
02-18-2015, 11:56 PM
bottobro
Junior Member



Posts: 45
Joined: Feb 2014
Reputation: 0
Botto's Expedition Trailer & Roadtrip
Figured I'd post this up here as well
A little story on how this all began.
Since I have been little, every year my grandmother and I always wanted to road trip across the US. We made a promise when I able to drive and was finished with college that we would rent a camper and do it. In March of 2014 she past away. This ended the chance for us to fulfill our dream.
This past year I have decided to live out our dreams and in 2016 that I was going to attend GONEmoab. If you don't know for me it's a 2195 Mile trip from NY one way.
The trip soon escalated to visiting my best friend who is moving out west. Then it turned into screw it, it's my last real trip before the real world, let's make my dream come true of seeing the coast.
The trip now includes:
1. Mt Rushmore
2.Seattle Washington
3.San Francisco
4.Los Angeles
5.The Grand Canyon
6. GONEmoab
7.Denver
So with this became my first real overlanding adventure. With this trip I will be designing and constructing an Expedition trailer.
Back to the living situation problem. So I have always been a fan of backpacking and living off the land, so instantly I have loved overlanding. But I haven't had much time do to school. I just love going out there and seeing every little back road.
I originally thought to just buy a rooftop tent and throw it on the X but that has its limitations. (no set homebase, getting snagged on trees offroading, bulky) I though of doing a Tear drop but that is out of my price range and time constraints. Then I fell in love with the M416 Military trailer.
So for the past few weeks I have been watching every little thing possible with those things online. (ridiculous what people think they are worth) Talking to my dad today he said I could use his old snowmobile trailer.
So welcome to the Build!
Now there wont be updates until 2 weeks from now when I get home to get the wood off the trailer but heres my plan
(Best pic I have of it)
During spring break I plan on Contacting a Sheet metal company to cut and bend the parts for the "Tub" and strip the trailer down to the frame to see what I am working with
This is my plan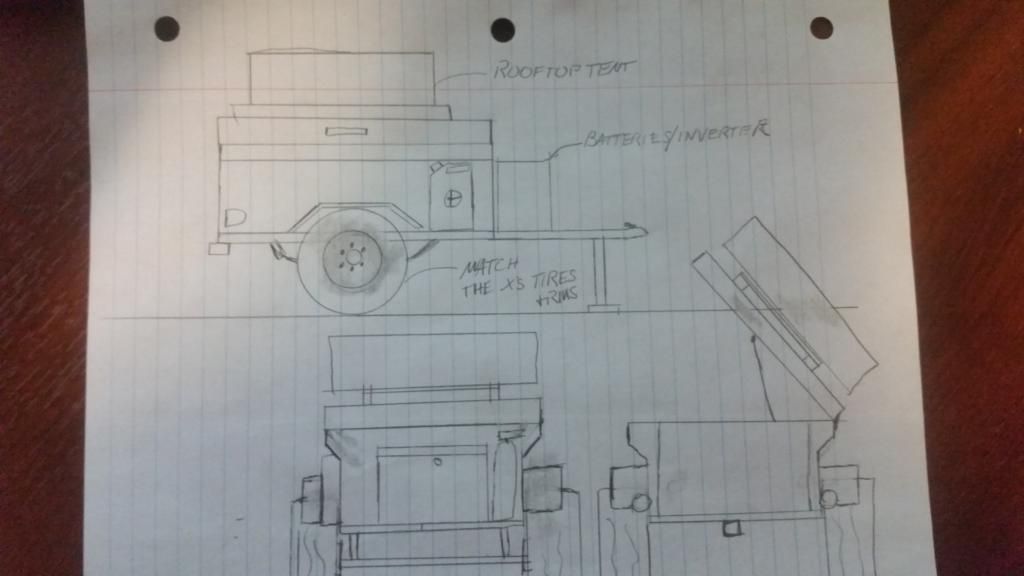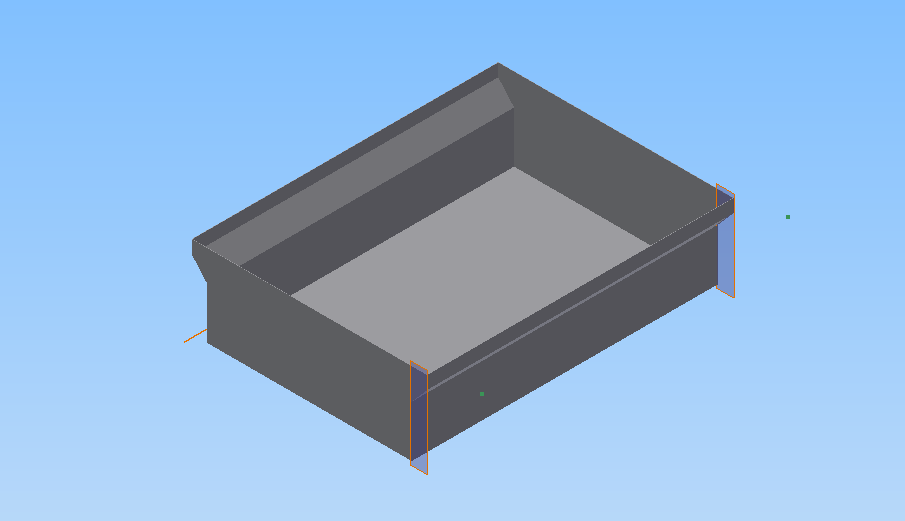 Heres the plan as of 2/2015

once I am home I plan on kicking this thing into gear
if your interested I started a Gofundme
Botto's Adventure
02-19-2015, 12:20 PM
Smithy
Upstate4x4 Admin



Posts: 1,184
Joined: Sep 2013
Reputation: 12
RE: Botto's Expedition Trailer & Roadtrip

I would love to do a trip like that some day.
---
02-19-2015, 09:35 PM
AA1PR
Senior Member


Vermont Mountains
Posts: 260
Joined: Jan 2015
Reputation: 0
RE: Botto's Expedition Trailer & Roadtrip
if you are headed across I90 from Eastern Washington to Seattle, check out lake Cle Elum & the surrounding area
there are so many forest service roads up there that I never got to explore them all in the 8 years I was out there
I'm not sure how much custom fabbed parts will cost, but there is Dinoot that sells a fiberglass tub kit ~
http://www.dinoot.com/
you can order it in many configurations & it mounts to a harbor freight frame to save even more $$
---
ExpeditionNorth.com Its not about the destination, its the journey.
2004 GMC Yukon & 1966 Stevens M416 trailer
02-20-2015, 02:02 AM
bottobro
Junior Member



Posts: 45
Joined: Feb 2014
Reputation: 0
RE: Botto's Expedition Trailer & Roadtrip
(02-19-2015 09:35 PM)

AA1PR Wrote: if you are headed across I90 from Eastern Washington to Seattle, check out lake Cle Elum & the surrounding area

there are so many forest service roads up there that I never got to explore them all in the 8 years I was out there

I'm not sure how much custom fabbed parts will cost, but there is Dinoot that sells a fiberglass tub kit ~ http://www.dinoot.com/

you can order it in many configurations & it mounts to a harbor freight frame to save even more $$
I thought about it because its all over the Expo forums, but I want to make it out of steel. IDK steel is just more sturdy in my opinion and easily addable for welding purposes
and i just googled lake Cle Elum holy sh!t I'm adding it to the trip that's beautiful
02-22-2015, 08:46 AM
AA1PR
Senior Member


Vermont Mountains
Posts: 260
Joined: Jan 2015
Reputation: 0
RE: Botto's Expedition Trailer & Roadtrip
a bit further South theres Riffe Lake off of rt12 too, real nice area, WA has tons of areas like that, that I really miss

once you're in seattle check out the market on the waterfront, its a local attraction
---
ExpeditionNorth.com Its not about the destination, its the journey.
2004 GMC Yukon & 1966 Stevens M416 trailer

User(s) browsing this thread: 1 Guest(s)